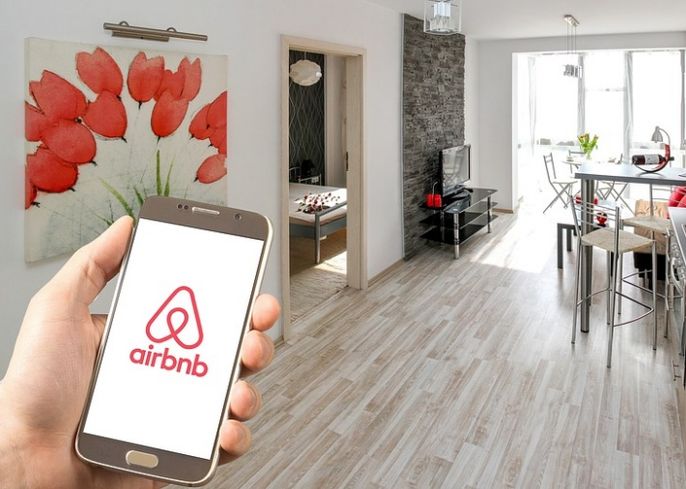 After Springfield's city council vote in January of 2019, residents can now offer short-term rentals on sites like Airbnb.  Now you can apply for a permit to operate legally in Springfield city limits.  You might ask yourself, should you consider Airbnb real estate investing in 2020?  It might be a good option for some.
Airbnb and similar short-term rental sites have changed the real estate investing game. Fast forward 10 years after it was founded in 2008, Airbnb continues to grow at a rapid pace, attracting hosts and guests from all over the country.
The Rise of Airbnb Real Estate Investing
Today, more and more property investors in Springfield, MO are investing in short-term rental properties  as money-making ventures.  According to Airbnb, hosts in Springfield and Greene County earned about $1.4 million in 2018. There were  approximately 15,800 guests staying in their rentals.  Those numbers were before the Springfield city council passed regulations making it legal.  In Branson and Taney County, Airbnb hosts earned about $5.1 million in 2018. Those hosts had about about 52,000 guests.
How Airbnb works is simple – the platform allows anyone to turn an extra space in their home into an asset that will help pay their rent. So, you can host a traveler in a spare bedroom, or a family can rent out their house as a vacation short-term rental to tourists while they're out of town. The company makes money by charging a percentage of the booking cost as a service fee from both the host (3%) and the guests (0-20%). Today, Forbes estimates that Airbnb is worth at least $38 billion!
Springfield Airbnb Investing
The financial benefits of short-term rentals can be appealing to the average person. Professional property investors who don't live in the house or apartment they're renting out on Airbnb are also turning to short term rentals as a good investment.  If you're interested in getting on board with Airbnb real estate investing, it's best to understand the different trends that affect this investment strategy. There are several websites with this trend data or call or text me at 417-693-3254. 
As a Realtor knowledgeable in the Springfield and Branson areas, I can help a  real estate investor know where to invest in Airbnb. I am also familiar with current market trends, the best type of investment property to rent out, and how to market a listing for a higher occupancy rate. The Airbnb trends for 2018 and 2019 can give you an idea of what you can expect from Airbnb real estate investing in 2020. This is good information for every Airbnb real estate investor in the Springfield and Branson housing markets.
For more information or to search homes click here https://bricedavis.com/your-perfect-home/ .  The following discusses the different types of short term rental in Springfield.
Type 1
Type 1 rentals are located in residential single-family or residential townhouse zoning districts.
These properties are owner-occupied primary residences and are not rented for more than 95 days in a calendar year when the owner is absent from the premises. If the owner is present the entire time, there is no limit on rental days.
The short term rental shall only be located in the primary structure or historic carriage house.
Type 1's require an affidavit that states the unit won't rent as a short-term rental more than 95 days in a year when the owner is absent.
There are no density or certificate of occupancy requirements.
An annual business license (about $25) is required.
Type 2
The type 2 properties are also located in residential single-family or residential townhouse zoning districts.
Type 2's are not owner-occupied primary residences — or, if they are owner-occupied, are rented more than 95 days in a calendar year when the owner is absent.
This type of rental may only be located in a primary structure, legal accessory apartment or historic carriage house.
Type 2's require a Type 2 Short-Term Rental permit (about $350) from the city. This requires a notarized affidavit containing signatures from 55 percent of adjacent property owners. This includes properties across the street, on either side and directly behind the property.
These also require an annual business license and a certificate of occupancy.
Type 2's must follow the following density restrictions: There shall be no more than one Type 2 or bed and breakfast per eight residential structures on a block face in residential zoning districts. A block face is defined as one side of a street from one intersection. If there are 4-15 residential structures per block face, there can be one short-term rental. If there are 16 or more, there can be two short-term rentals.
Type 3
These are located in districts other than residential single-family or residential townhouse zoning districts.
There shall be no more than two short-term rental Type 3's permitted on a premise. (A premise is any tract of land consisting of one or more lots, under single or multiple ownership, which functions as one unit.)
There are no density restrictions.
An annual business license and certificate of occupancy are required.
Additional Recommendations 
The path to successful real estate investing doesn't end once a real estate investor has the Airbnb investment property. Reaching sweet, sweet success will rely on good Airbnb property management. Here are a few tips for achieving the best Airbnb property management:
Set a competitive rent price that will bring a good return on investment (use a rental property calculator to help you out!)
Perfect your Airbnb listing for optimal marketing
Take care of your guests to ensure they leave the best Airbnb reviews
Don't neglect repairs and cleanliness
Use software for booking and even smart locks to try and automate as much of Airbnb property management as you can
Alternatively, consider hiring professional Airbnb property management. They can ensure the best Airbnb investment opportunities don't go to waste!
These are the basic steps for Airbnb real estate investing.  Any real estate investor can follow them and find him/herself making money in real estate.  It will take some time, but you can get there!
I hope you find this information helpful, and feel free to share it with your friends.