This housing market has been a wild ride in 2022, from soaring home prices, low inventory, and now rising interest rates.  The changes have many people wondering what's going to happen to the local Springfield housing market.
Homebuyers are feeling the 1-2 punch from both rising home prices and mortgage rates.  Home prices have been hitting all-time highs with low inventory and quick sales.  The higher mortgage rates will start to cause homes to be on the market longer.  It should also start to return home price increases to more normal levels.
Federal Reserve Rate Hike
The Federal Reserve made history last week by hiking rates by three-quarters of a percentage point for the second straight month.  This is the most aggressive tightening in more than a generation hoping to curb the highest inflation on over 40 years.
Dr. Jessica Lautz with the National Association of Realtors said, "However, fewer buyers will be able to afford a home because of rising interest rates and increasing home prices.  While unaffordable housing isn't a good thing, it does mean that buyers still in the market may have more time to find the perfect home."
The Federal Reserve announced a .75 point interest rate hike Wednesday, but experts believe its influence on the mortgage market has already baked in.  "The market's already priced in an increase," says Peter Boomer, executive vice president at PNC Bank. There could still be more volatility with the interest rates.  Boomer went on to say "I think we're going to be in a little bit of a roller coaster."
"Lenders base their interest rates on what it costs them to lend the money to consumers, which is affected by inflation," says Eileen Derks, senior vice president and head of mortgage at Laurel Road.  "Mortgage rates often move in anticipation of expected increases in lenders' costs to avoid sudden sticker shock.  We may actually see things level out a little bit," she says.
Historic Interest Rates
The Fed does not set mortgage rates, but these often follow the same general trend as the overall market.  A look at mortgage rates over time reveals the average rate since 1971 is 7.77%.  So while over the last several years we got used to record low or near record low rates, today's rates are around 5%.  So today's rates are still historically good, just a bit of a sticker shock to current buyers.  CLICK HERE to see further historic interest rate data.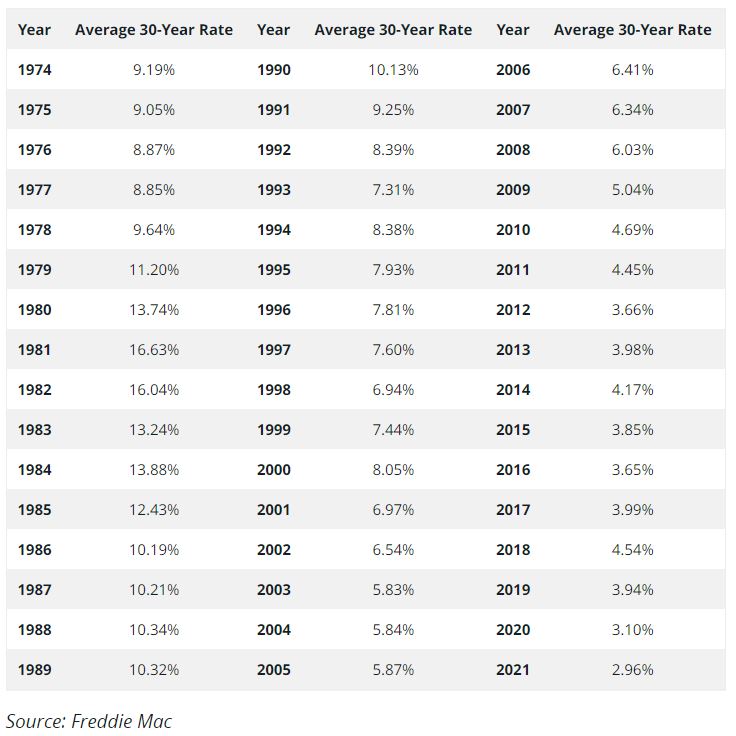 Housing Market
Lawrence Yun, chief economist for the National Association of Realtors, believes the Fed hike is unlikely to cause a large jump in mortgage rates.  "The long-term bond market, off of which mortgage rates are generally priced, has mostly priced-in all future actions by the Fed and may have already peaked with the 10-year Treasury shooting up to 3.5% in mid-June," said Yun. "It is possible that the 30-year fixed mortgage rate may settle down at 5.5% to 6% for the remainder of the year. Still, mortgage rates are significantly higher now compared to one year ago, which is why home sales have been falling."
The effects of higher rates are particularly evident in the housing market, where sales have slowed. But Yun sees a light at the end of the tunnel. "If mortgage rates do stabilize near the current rates, home sales will be dependent on jobs and consumer confidence," he said. "Job creations have been ongoing to date. Therefore, home sales could soon stabilize within a few months and then steadily turn upwards from early next year."
"As the Fed continues to march forward with rate increases aimed at countering inflation, the path for mortgage rates is less well-defined," said Ruben Gonzalez, chief economist for Keller Williams. "Mortgage rates have historically moved closely with 10-year Treasuries; however, over the last several months, the spread between the two has widened by a full percentage point."
He added, "The housing market is now slowing down with home sales down 14% in June, and that trend is on pace to continue through July. Home price appreciation has begun to slow and mortgage rates are a primary factor slowing demand for home purchases. Over the next several months, the housing market will be even more in line with pre-pandemic market conditions."
"Buyers who have been waiting on the sidelines may see an opportunity to get back into the market as things normalize a bit and volatility wanes," said Robert Heck, vice president of mortgage at Morty.  "While it may take years to play out, the Fed has made it clear that they will continue taking the necessary action to bring down inflation. The market has largely adjusted to this dynamic already. We've reached a new normal, and it looks very different from the frenzied activity of the past two years, but that's not a bad thing, especially for buyers."
HELOC's
The biggest way the rate Fed rate increases will affect home owners is those using a HELOC or home equity line of credit.  With the recent rise in home values many more people have more home equity.  For those with plenty of home equity, a HELOC can be a good option to fund larger projects like home renovations or consolidating debt.
Interest rates on HELOC's are tied to the Wall Street Journal prime rate, which is the base rate on corporate loans by the largest banks. The prime rate, in turn, moves with the federal funds rates.
On a HELOC with an interest rate of 5%, the monthly interest on a $50,000 balance would be $208.33. A Fed rate increase of 0.75% would raise the HELOC rate to 5.75% and the interest-only monthly payment to $239.58.
More and more borrowers might start to use discount points to lower the interest rates.  A discount point can lower interest rates by about .25% in exchange for upfront cash.  A discount point costs 1% of the home loan.
For a $300,000 loan, a discount point would cost $3,000 upfront.  The borrower recoups that cost over time due to the lower interest rate.  Since interest payments play out over time, a buyer who plans to sell their home in a couple of years should probably skip the discount points and pay the higher interest rate for a short time.
Hopefully the inflation will come down and the markets settle more in the future bringing stability back to the housing markets.  As always you can CLICK HERE to search for Springfield area homes.  I hope you found this blog informative and as always feel free too share with others.