The dilemma to buy vs rent has been a popular question in Springfield since the housing market declined after 2007.  The answer though, will vary depending on the buyer or renter.  In some cases the answer can just be as simple as a lifestyle choice or matter of timing.
Renting can be simpler than owning when it comes to needed repairs.  Eventually all houses will need repairs, as a renter you just have to call the landlord to have the repairs made.  In some cases yard maintenance is included in the rent, so that helps to further cut down on maintenance.  So if ease of maintenance is a priority, then renting might be a good idea.
There are drawbacks to renting also, limited options on paint color or landscaping.  As a renter you also have little control over rental increases at the end of your lease term.  In the Springfield market a 5% increase is not uncommon.  Most leases also include a provision for terminating the lease with 30 days notice in the event the landlord decides to sell the home.  Every month of renting, the payment goes to the owner and you as the renter do not build any equity benefit, the landlord does.
Owning a home typically comes with a mortgage, unless you have the cash to buy outright.  Most mortgages these days are fixed rate mortgages that come with a stable payment that will not go up, helping to potentially build long term equity in the home.  Interest rates are still near historic lows, helping to keep payments low.
There are also some tax benefits to owning a home that are not available to renters.  This can make owning a home less expensive than renting in the long term.  There will be long term costs for maintenance and repairs, but those are easily offset in the equity you build in the home.  Don't think of a home investment as a get rich quick, because the equity comes as you pay down the amount owed and hopefully the value increases over time.  Historically home values have risen over time.
The chart below shows a cost comparison for a renter and a homeowner over a 7 year period.  The renter starts out paying $800 per month with annual increases of 5%.  The homeowner purchases a home for $110,000 and pays a monthly mortgage of $1,000.  After 6 years, the homeowner's payment is lower than the renter's monthly payment.  After adding in the tax savings of home ownership, the homeowner's payment is less than the rental payment after 3 years.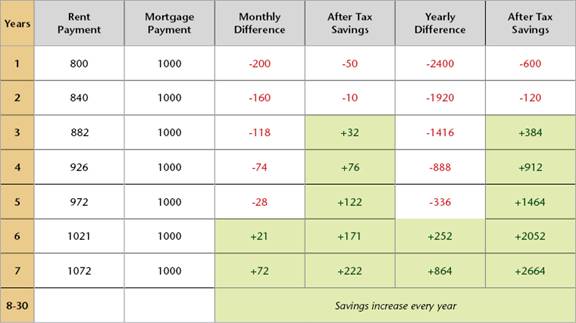 As a real estate agent I can tell you, that in the Springfield market it is generally cheaper to buy a home than renting a comparable home at the current market rental rate.  With the current low rates the above graph swings in favor of owning even quicker.  This could make buying a home a good option, if you are planning on staying in the home for a few years.
If you are thinking of buying a home instead of renting there are several good loan options available right now to help you.  FHA loans are still a good option and do not require perfect credit.  An FHA loan also has only a 3.5% down payment requirement.  If you are OK with living outside Springfield, a USDA loan might be a good option.  USDA loans require no down payment and have a lower mortgage insurance rate than FHA loans.
With loan rates still near historic lows, this is a great time to buy a home if you have been thinking about becoming a home owner and not a renter.  Head on over to the Advanced Search page to see all the quality inventory available.  You can search for homes by subdivision or school district and many other search options.  Contact me today and lets find your dream home.