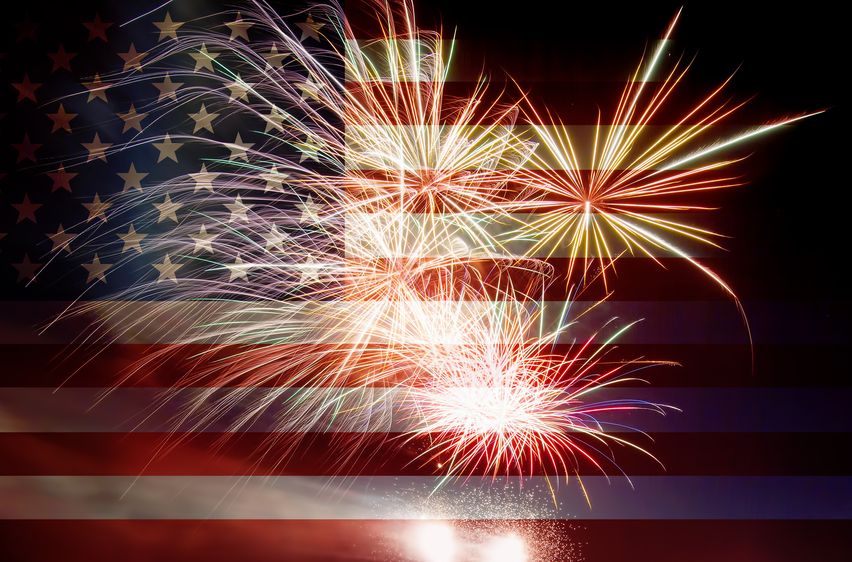 The 4th of July weekend is a great time of the year for family and friends.  After the rough year last year we are all ready for a weekend full of backyard BBQ's, lazy days at Table Rock Lake, and fireworks.  What can be more American fun than that?
With the 4th of July weekend approaching there are celebrations happening all around the Ozarks.  It will be a great way to reconnect with friends and family.  Below is a list of several fireworks displays all around the Ozarks.  There are many opportunities to watch the 4th of July fireworks to light up celebrating Independence Day.
If you are wanting to upgrade your backyard for BBQ's or find that new lake house for future Holiday celebrations please don't hesitate to call me at 417-693-3254 or email me at Brice@BriceDavis.com.  If you have some time and just want to search for homes online visit BriceDavis.com.
Hammons Field Fireworks Show
Sunday, July 4 at 9:30 p.m. 
Nothing is more American than the great game of baseball. Celebrate the Springfield Cardinals game against the NW Arkansas Naturals at Hammons Field. Following the game, fans will get to experience the Freedom Fireworks show on July 4. This will be an evening packed full of good food, patriotic music and activities for the kids.
Branson Landing Liberty Light Up
Saturday, July 3rd at 6 p.m.
This fireworks show is one you don't want to miss. To make the wait for the fireworks display fly by the Beer Garden will be opening at 6:30 p.m. Not only will you enjoy a breathtakingly choreographed display but you can also enjoy a night of live music featuring Mile Zero and The Dirty Saints.
Fireburst at Kimberling City Bridge
Friday July 2nd at sunset
For this stunning display, you can get up close and personal at Table Rock Lake on land or on boat. The fireworks are set to start on July 2 around 9 p.m. Just be sure to get there early to find a good spot and spend the day on the lake. This event is hosted by the Table Rock Lake Chamber of Commerce and is free to the public.
142nd Independence Day Parade
Saturday, July 3 at 10 a.m.
Head on over to Marshfield to enjoy a good ol' fashioned 4th of July parade! The parade will start down North Locust Street and wind through town before finishing on North Elm Street. The parade route will still be lined with food and drink vendors to help you cool off with lots of free candy for the kids. The festivities will end later that day with a firework display around 9:15 p.m.
Rockaway Beach Annual Rockin' 4th of July
Sunday, July 4th at noon
Celebrate the birth of the nation with fireworks starting at 9:30 p.m. at Rockaway Beach. Entrance to the event is free and starts at noon. Be sure to bring some cash in case you want to check out the craft and food vendors, or let the kids have a chance at the carnival games.
39th Annual Fireworks Display
Saturday, July 3rd at 4 p.m.
The Theodosia Area Chamber of Commerce invites you to their 38th Annual Fireworks display over Bull Shoals Lake. The event will kick off with a pet show at 4 p.m., followed by a golf cart parade at 6 p.m.
Hollister Fireworks Show
Sunday, July 4th at 9 p.m.
Enjoy a beautiful view of fireworks in the park with a variety of food vendors and activities with everything from music to the Little Miss Firecracker Pageant. The event will take place at Chad A. Fuqua Memorial Park on July 4 with the fireworks beginning at 9 p.m.
Chateau on the Lake 4th of July Celebration
Sunday, July 4th at 9 p.m.
This 4th of July, Chateau on the Lake will light up the evening sky to celebrate Independence Day with all of its visitors. Make your room reservations early to ensure you have a great view of the show and are able to enjoy a holiday full of activities.
Fort Leonard Wood Independence Day Celebration
Sunday, July 4th at 3 p.m.
Celebrate our independence at Fort Leonard Wood with this event that has a little bit of everything for everyone. From concerts, a car show, games, a petting zoo and food vendors, it will be impossible to be bored while you wait for the fireworks show to begin at 9 p.m. The event is open to the public with a $5 admission fee.
WALDOPALOOZA by The Clever Barn
Saturday, July 3 starting at 5 p.m.
Lots of activities with shopping booths, food, drinks, karaoke, lawn games and a bonfire all with no cover charge.  The fireworks show will begin after 9:30 p.m.
Dixon Fireworks Celebration
Friday, July 2
Fireworks will begin after 9:30 p.m. at Frisco Park
Hollister Annual Fireworks Celebration
Sunday, July 4
The celebration is at Chad A. Fuqua in Hollister featuring the Little Miss Firecracker Pageant, music and more.  Fireworks start at dusk.
I hope you found this blog helpful and please feel free to share it with others.  Enjoy the weekend. And as always if you need help with your real estate call me at 417-693-3254 or email me at Brice@BriceDavis.com.