Willard, MO - Information and Activities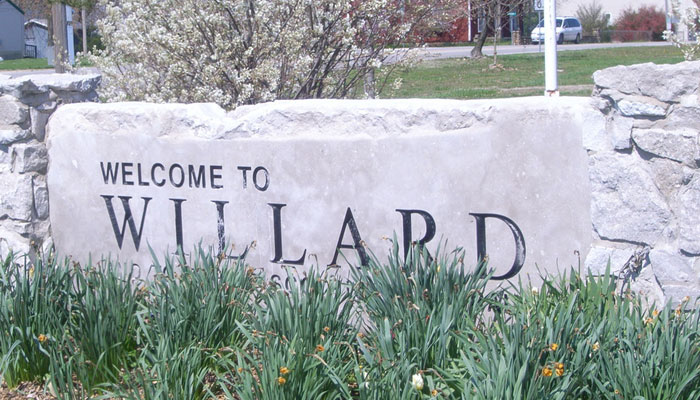 Willard, MO
Willard is a close knit community with lots to offer residents and is located just minutes from the Springfield Branson National Airport, and a 15 minute drive north of Springfield.
With nice area parks and a strong community center and aquatics center there are lots of fun outdoor activities. The Willard Sports Complex has a nature trail, baseball and softball fields and the 18,000 square foot recreation center. The recreation center has 2 gymnasiums, classrooms, a community room and the Cox fitness center.   The aquatics center features two 139′ twisting slides, kid's climbing train, basketball goals, and of course lots room for swimming.  The Jackson Street park is located next to the aquatics center, and features a fitness trail, playgrounds, and a pavilion.  The Frisco Highline Trail runs from Springfield through Willard and on to Bolivar.  This trail runs along the abandoned train corridor, that Harry S. Truman once rode this rail line to dedicate a statue to Simon Bolivar useing it as a tune up for his famous "whistlestop" campaign that got him re-elected President later that year in November.  The Willard parks are truly a source of pride for the community.
Willard hosts Freedom Feast each June and offers area residents some of the best BBQ around.  This is a sanctioned Kansas City Barbeque Society event, so it brings out teams from several states.
Located just outside the Willard city limits is Fantastic Caverns, Americas only ride through cave.  The cave was discovered in 1862 by a local farmers dog who crawled through an entrance. It was not explored until 5 years later when 12 women from Springfield answered a newspaper ad seeking explorers. Their names are still memorialized on cave wall today. This remains a family owned business and their careful stewardship preserves this natural wonder for others to enjoy for decades to come.
Willard schools received a bronze rating from US News and World Reports.  Willard schools have a 15:1 student to teacher ratio.  Willard High School has several notable alumni including Jason Pyrah a former Olympic distance runner in 1996 and 2000 and Lori Endicott a former bronze medal volleyball player in 1992.
Willard has a storied history that started back in 1860 when George Sloan built the first home in the area.  Soon others started to settle into the area forming a community.  In 1884 the St. Louis and San Francisco railroad started laying track from Springfield to Bolivar and eventually onto Kansas City.  A railway depot was constructed in Willard later that year and the city of Willard received its name after William Willard, a surveyor for the railroad.  The locals wanted to name the town after Dr. E. T. Robberson who originally platted the town, but there was already another Robberson in Missouri, so for lack of a better option it was named Willard. Bonnie and Clyde even add to Willard's rich history, as the couple briefly stayed at the Willard Hotel during their crime spree.
The housing in Willard offers everything from small historic farms to newer subdivisions full of amenities. Because of the rural farming nature of the community, Willard maintains much of the small town history a feel.
With all that Willard has to offer its easy to see why Willard's population has increased 66% since 2000.