Strafford, MO - Information and Activities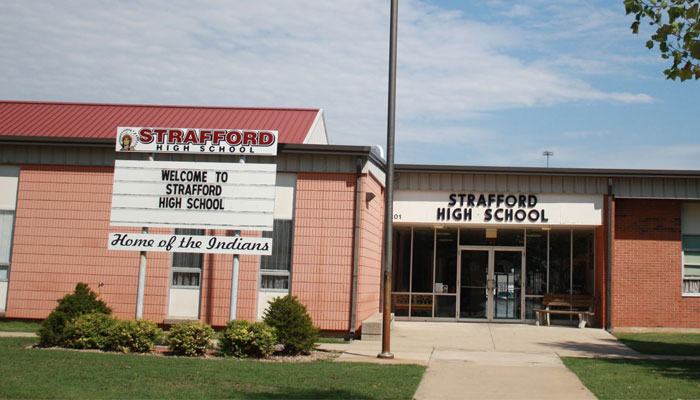 Strafford, MO
Strafford is a rural bedroom community located east of Springfield.  Shipping has long been part of Strafford's history, first with the railroad, then Route 66 and now located along Interstate 44 trucking is at the center of Strafford's local economy.
Like most of the area communities, Strafford traces its roots to the railroad with the building of the St. Louis to San Francisco line by the South Pacific Railroad Company.  The city of Strafford grew around the railroad construction and was named Strafford by the men who built the rail line.  These men were trying to name the town after Stratford, Connecticut but misspelled the name.  As the community grew and commercial buildings started to be built in what is now downtown Strafford.  Originally most of these businesses faced Pine Street, with the building of route 66 many of these business incorporated 2 front doors one facing Pine St and a second one facing Main St (Route 66).   The small downtown is still around featuring shops and restaurants providing a uniquely local flavor.
The Trail of Tears is also believed to run through Strafford giving it significant local history.  Although the original trail was not mapped, most historians believe the trail to have run through what is now downtown Strafford.
With its rich history Strafford has a unique small town feel and much of its housing reflects its rural nature.  Like most of the Ozarks, Strafford has experienced a lot of growth in the last 20 years, this has resulted in many newer homes having been built in Strafford.
Strafford's schools have received a bronze rating from US News and World Reports.  The schools system features a teacher to student ratio of 14:1.  The students test scores exceed the state average.
Strafford is located near several large and beautiful parks, including Wild Animal Safari and Compton Hollow Conservation Area.  Wild Animal Safari is a drive-thru animal park that you can tour from the comfort of your own car or on a complimentary bus tour led by an Animal Safari tour guide.  The park features70 different species and over 750 animals.  Compton Hollow Conservation Area is located a few minutes south east of Strafford, this 840 acre, mostly wooded area offers hiking, biking, and horseback riding trails except during Spring turkey hunting season and fall firearm deer season.  The state park also features an archery field course with 6 individual stations.  Camping is allowed, groups of 10 or more will need a special use permit though.  A short drive to the north west is Fellows lake offering a  boat ramp,  fishing, boat ramp, boat docks, pavilion, and 11 water fowl blinds.
Within Strafford you will find 3 parks the Howard Smith Community Park, Croxdale Park and the Strafford Sports Complex.  Howard Smith Community Park offers playground equipment, charcoal grills, a 1/3 mile walking track, and the spray ground for lots of cool summer fun.  Croxdale Park offers pavilions, play grounds, picnic tables and restrooms.  The Strafford Sports Complex serves all of the communities softball and baseball needs.
Strafford Route 66Days has been going strong since 1992.  This yearly festival occurs each September and celebrates Strafford and the history of Route 66.  There are tractor pulls, lots of food vendors, bands and much more family fun.
Strafford has a lot to offer some one looking for a rural feel with easy access to Springfield's amenities.